The Stillwater Food Pantry can help you.
The food pantry will give a 3 day supply of food to any person (or family) each month.
Some of the foods we offer include (depending on availability):
Canned meat, beef stew, chili, soup, chicken, canned fish & chicken, dry beans, peanut butter, canned fruits & vegetables,
canned juices, spaghetti sauce, jelly and jam, bread, flour & cereals, baking mix, dry cereal, rice, pasta, sugar, meats, produce,
dairy products, shelf stable milk, evaporated milk, powdered milk, paper products, and toiletries and household products.
(What We Accept PDF)
It's easy to enroll.
Just come to the food pantry during our open hours or call us at 518-664-1231 and we can arrange for your first pickup.
(Food Pantry Application PDF)
About Us.
The Stillwater Food Pantry is a mission of The Stillwater United Church.
We are a member of the Regional Food Bank of Northeastern New York. We provide unprepared foods directly to those in need.
In addition, we are an important source of emergency food for families who may need temporary help.
We are located on the first floor of the Stillwater United Church on Hudson Avenue.
We are 100% volunteer run and since we operate as a mission of the Church, we have low overhead which helps ensures funds we receive go directly to helping our guests. We can give out about 1 meal to a family of 4 per $3.00 we take in.
Stillwater Food Pantry History:
1980.
The Food Pantry was started in 1980 by Pastor Larry Moir. The food supply grew with the help of the local boy scouts and postal service running local food drives.
Food was stored in what was known as "Hogan's Alley" near Fellowship Hall within the Church. To accommodate the growing supply of food, Larry Moir and John Roberge built the first shelving downstairs.
1989.
Oscar Brundige took over maintaining and stocking of the Food Pantry.
1992.
Sally, who worked at the Church's office in 1992, took over the pantry as part of her job. There were no set days/times of operation for the Food Pantry, therefore food was given out whenever a person in need came by or called the Church.
1996.
A Food Pantry Committee was formed in 1996 and Anne VanVranken took over as coordinator. Days/Hours was established as Mondays / Wednesdays from 10am to 12noon and the committee members took turns working at the pantry. Jay, Anne's husband, was the lead builder of the cupboards on the first floor of the Church where Food is now stored.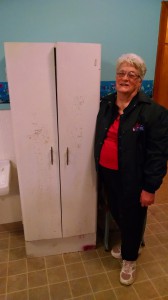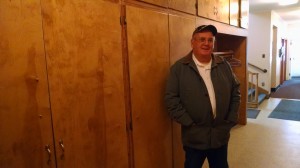 2000.
Elinor Coulter took over coordinating the pantry in 2000.
2005.
Sheila Callahan took over coordinating the pantry in 2005.
2012.
Under Sheila's guidance, The Food Pantry became a member of the Northeast Regional Food Bank in 2012 and was allowed to obtain low cost and free items directly from the Food Bank in Latham, NY.
2014.
Beth Chromey and Russell Kirkwood became Co-Directors of the Pantry in August 2014.